-Originally posted at The Cap Times 
-By BILL BERRY | state columnist
STEVENS POINT — Roads and schools are pretty basic to our way of life, right?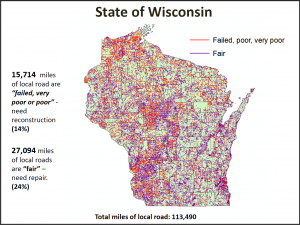 Well, thanks to sewage flowing out of the state Capitol these days, both are in rough shape in Wisconsin.
"State's local roads crumbling," read the headline last week. An analysis of state Department of Transportation data found that more than 42,000 miles of local roads in the state require immediate repair. Results were shared by 1000 Friends of Wisconsin, the Wisconsin Public Interest Research Group and the Sierra Club's John Muir chapter. (For transparency, I serve on the 1000 Friends board.)
The report says rural roads are in worse shape than those in urban areas. Northwest Wisconsin's are really hurting. Almost half of them need attention.
The folks who released the study say this underfunding has been a bipartisan trend. But it's clear that things have gotten a lot worse in recent years. Gov. Walker and his minions now propose going into debt to the tune of $1.3 billion, the majority of it for mega-projects, not for fixing the roads people use in their own communities.
It gets worse. Property tax freezes and cuts to state reimbursements from gas taxes local people pay hamstring local units of government. A familiar refrain from fiscal conservatives is "Government should run more like a business." What kind of business would operate like this?
A lot of the vehicles on local roads are school buses carrying kids. So kids going to public schools now get the privilege of riding on crumbling roads to decaying schools.
A dramatic expansion of private voucher schools, at the expense of public schools, is part of Walker's cruel budget. Unlimited public dollars will go to private schools while public schools, the heart of their communities, suffer mightily. Again, rural schools suffer most. Frankly, rural lawmakers who support this scheme ought to be called to task wherever people gather. That they are not held accountable escapes logic. Why would rural residents vote against their own interests, and, more importantly, those of their kids or grandkids?
The legacy of those who let ideology trump the interests of their neighbors is the systematic dismantling of public schools. Why doesn't a brave Republican lawmaker speak up? Wait, someone did. His name was Dale Schultz, who was a state senator. His party made him an outsider, so he quit.
A few brave school superintendents, the folks left to deal with this mess, won't be muzzled. One is Pepin Superintendent Bruce Quinton. He wrote to state Sen. Kathleen Vinehout last year: "Less funding, more mandates, higher expectations. No successful business or organization runs according to these concepts. If the goal is truly to improve education, then our lawmakers should stand up for adequate funding for our children's education," wrote Quinton.
Unfortunately, the party in charge of this orchestrated collapse is doing the opposite. The current state budget provides Pepin taxpayers $1,667 of general state aid per student. Private schools got $7,856 per high school voucher student and $7,210 for K-8 voucher students.
Quinton isn't alone. Stanley-Boyd Superintendent Jim Jones blasted Walker's proposed budget in a recent article, fittingly in The Stanley Republican. That district will get no revenue cap increase, and the budget cuts per-pupil adjustment aids by $50 a kid, swiping another $153,150 from the district.
"This does not take into effect the insane idea of making us pay an amount equal to our equalized aid for every private school child," Jones said. "Putting it all together makes it easily the worst budget for public education, perhaps ever."
But apparently, a majority of rural voters want crumbling roads and decaying schools.
Bill Berry of Stevens Point writes a semimonthly column for The Capital Times. billnick@charter.net
Read more: https://host.madison.com/news/opinion/column/bill_berry/bill-berry-rural-voters-must-be-ok-with-crumbling-roads/article_8e8bfd12-b474-5b9b-8baf-8136d57e2d40.html#ixzz3WpRAuxAv