[spb_text_block pb_margin_bottom="no" pb_border_bottom="no" width="1/1″ el_position="first last"]
Arrive Together: Building a 21st Century Transportation System for Wisconsin
Transportation is vital.  It connects people to jobs, healthcare, the grocery store, school, houses of worship and more. For people who aren't able to drive, can't afford to drive or do not want to drive, getting from point A to point B can be expensive, burdensome – even impossible.
On December 3rd, transit users, community advocates and allies from around Wisconsin will gather in Milwaukee to explore the impact of transportation on people in our state and how we can advocate for change.
VENUE: 
Milwaukee Area Technical College
700 West State Street
Milwaukee, WI 53233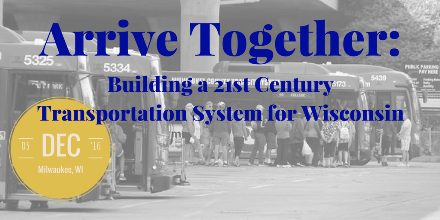 9 am: Registration & light breakfast
9:30 am: Listening Session
10:30 am: Plenary Session: Story Sharing – Getting Wisconsin's Transportation Priorities Straight with story-sharing and speakers including national Sierra Club President Aaron Mair and US Secretary of Transportation Anthony Fox (invited).
12 noon: Lunch
1:00 – 3:00 pm: Breakout Sessions
3:00 – 4:00 pm: Round Table Discussion
4:00 – 5:00 pm: Social Hour with food & fellowship
Join us for the full day or just for the plenary!
We ask anyone who can to pitch in $10 to attend the Summit. Your registration fee will help create a travel support fund for people from across the state who could not otherwise afford to participate in the Summit.
If you're not able to afford the $10 registration fee, please fill out this scholarship form.
Where can I contact the organizer with any questions?
For questions or assistance with registering – please contact Cassie Steiner
cassandra.steiner@sierraclub.org
608-256-0565
1000 Friends of Wisconsin, WISPIRG, Sierra Club-John Muir Chapter, Wisdom and Wisconsin Green Muslims are a coalition devoted to promoting transportation equity across the state.
If your organization would like to become a partner to the Transportation Equity Summit, please fill out this partnership agreement form.
[/spb_text_block]