Getting our Transportation Priorities Right
Transportation funding – Wisconsin's Backwards Priorities and the Need for Budget Reform
Wisconsin's transportation spending priorities are backwards.  Costly and unneeded highway expansion projects are diverting money away from repair needs, 21st century transportation that Millennials and Baby Boomers are seeking, and the local transportation needs that are essential to economic growth and prosperity.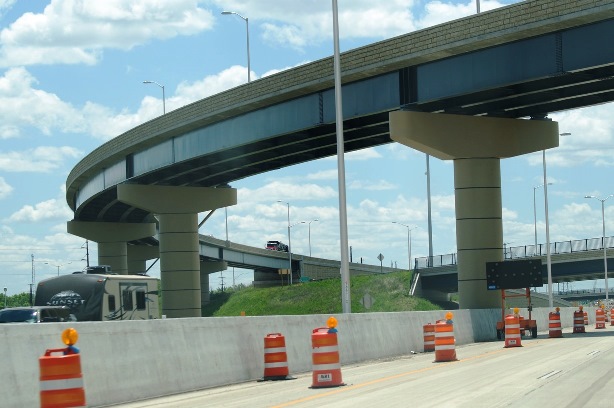 While transportation funding is one of the biggest issues facing Wisconsin in the next biennium, major candidates for state office are offering few details as to what they would do.  Most candidates, if they say anything, talk about the constitutional amendment to protect the transportation fund or about the need to find more funding.  The former is a distraction from the real issues we face, and the latter would be a disservice both to taxpayers, whose tax dollars are being irresponsibly and wastefully spent now, and to our transportation system.  We need transportation budget reform.
Before we do anything, we need to re-prioritize spending in the transportation fund.  Local infrastructure is deteriorating while we build extravagant highway expansion projects and do little to respond to and meet new, emerging trends and demands.
1.  Local Infrastructure is deteriorating
Statewide, local roads are in disrepair and transit systems struggle to meet local needs.  The American Society of Civil Engineers rates 71 percent of Wisconsin's roads as "mediocre" or "poor" quality.  Additionally, 1,157 bridges in Wisconsin—approximately 8 percent of the total—are "structurally deficient."  Most transit systems in Wisconsin have had to implement service cuts or fare increases, or both, due to state budget cuts; and in Milwaukee, service cuts have disconnected 77,000 workers from jobs according to the UWM Center for Economic Development.
Without state support, Wisconsin communities are stuck in a transportation funding bind and unable to maintain, let alone improve, local transportation infrastructure.  Cuts in shared revenues, school aids and Medicaid have all added pressure on property taxes.  And a state mandate that virtually freezes property taxes exacerbates the funding shortages.  At the same time, state funding for local transportation needs for both road maintenance and transit operations have been cut.  Local leaders are stuck facing a crisis that threatens safety, property values and job retention.  State assistance is essential to remedy this crisis.
2.  Growing Imbalance in the State Transportation Fund
While local infrastructure has been deteriorating, the state's budget for highway construction has increased greatly.  Between 1998 and 2013, state spending on highway construction grew 50 percent in constant 2011 dollars, while local road and bridge assistance funding shrunk by over 30 percent, and total state transit funding decreased almost 2 percent over that period.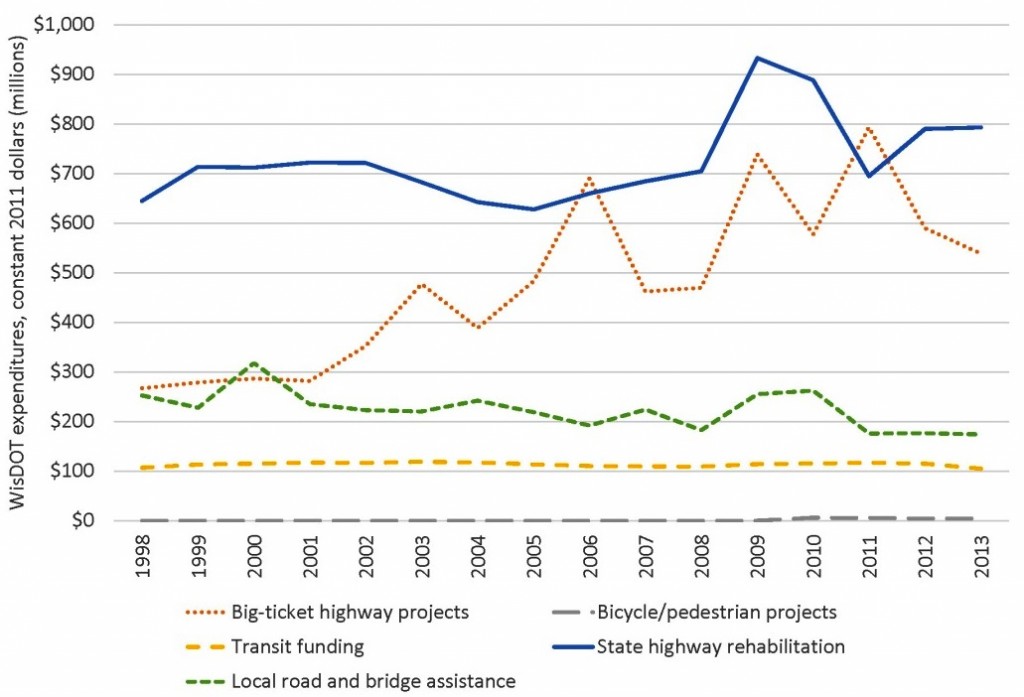 Of great concern to any taxpayer in the state should be the fact that the fastest growing part of the state transportation budget is deficit spending, which is $990 million or nearly 1/7 of the entire 2013-2015 biennial transportation budget.
Maintaining a good highway system is important to Wisconsin's economy, but mounting evidence has revealed that many recently completed and planned highway expansion projects are not justified, squandering taxpayer money and diverting precious resources away from critical and under-funded local transportation needs.
A May 2013 WISPIRG Foundation study (Road Overkill: Wisconsin Spends Big on Questionable Highways Even as Driving Declines) found that usage of seven recently completed highways has not developed as projected.  For example, the $118 million, four-lane Burlington Bypass in Racine County presently accommodates 33 to 36 percent less traffic than forecast, and handles traffic numbers small enough that the previous two-lane road would be suitable.  The projects in the report totaled more than $1 billion.
WISDOT has plans to continue spending extravagantly on highway expansion. Even worse, many WISDOT highway expansion plans are not supported by the data.
A recent 1000 Friends of Wisconsin study (Bad Traffic Projections At Wisconsin DOT Could Cost Taxpayers Over One Billion Dollars) analyzed traffic projections that led to the authorization of 11 highway expansion projects and compares them to recent traffic counts in the current highway corridors. The analysis found that recent traffic counts on all of the 11 projects are unlikely to come close to the projections offered by WISDOT.  For example, WISDOT is projecting a 23% increase in traffic on I-94 near the Brewer's Stadium by 2040. However, actual traffic counts show that traffic has decreased by 8% along that stretch of highway. Present trends show that the DOT projections will never be achieved.  The total cost of the 11 projects where traffic counts diverge from WISDOT projections is more than $3 billion. Though there may be other improvements still needed for many of the projects, costly real estate acquisition and the expense of more lane miles of concrete could be saved by downsizing the projects.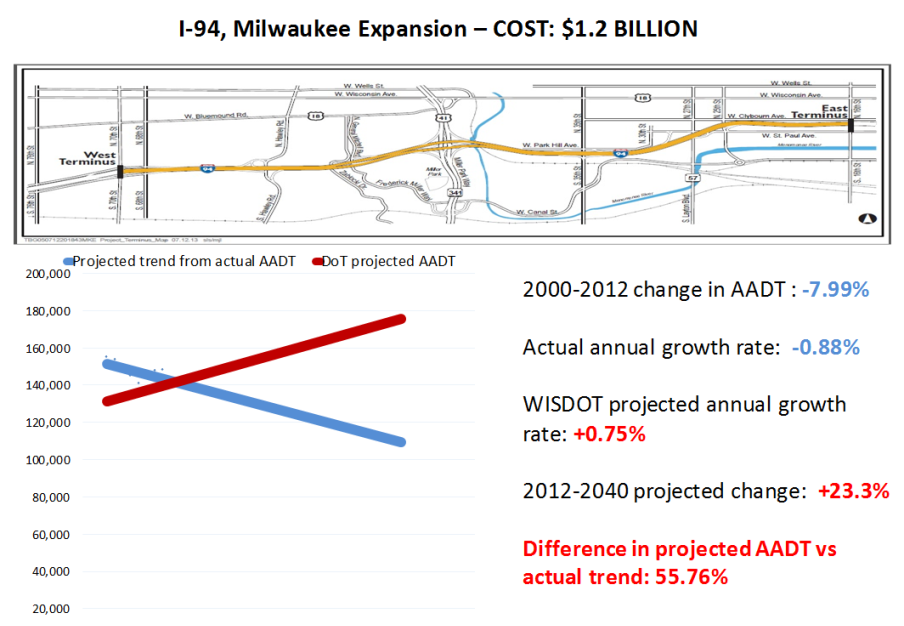 3.  WISDOT's priorities are misplaced and out of touch – People are driving less, Millennials want more options
Wisconsinites are driving less and relying more on non-driving modes of transportation such as walking, biking, and transit.  After growing steadily year after year for decades, the number of vehicle-miles traveled (VMT) in Wisconsin peaked in 2004 before entering an unprecedented era of decline.  The average Wisconsinite today drives no more than he or she did in 1998 and overall VMT in 2013 – the most recent year for which data are available from WISDOT – were down approximately 1.5 percent from the peak level of eight years prior.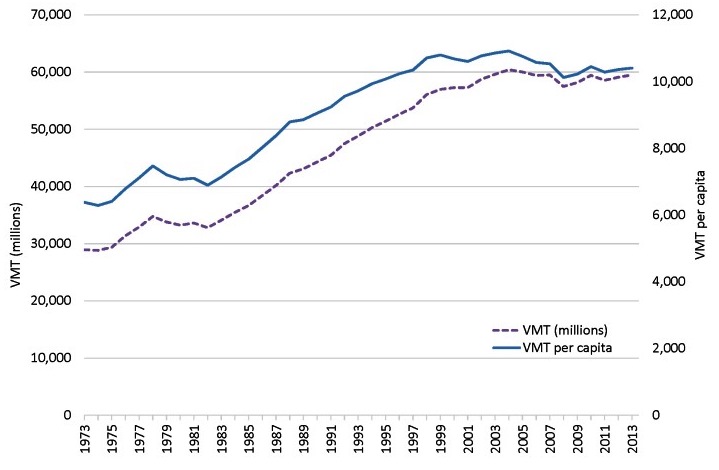 At the same time, demand for non-driving modes of transportation is growing in Wisconsin.  Transit ridership in Madison has risen 52 percent since 1995 and the city's 14.7 million bus riders in 2013 were the second largest number ever.  In La Crosse, annual ridership of the bus system rose from approximately 710,000 in 1997 to almost 1.26 million in 2013.  Ridership gains have taken place in smaller areas as well.  According to the state's Transportation Policy and Finance Commission, between 2007 and 2011 statewide ridership on "Tier C" transit systems – those operating in areas with populations of less than 50,000 – rose.
Millennials, in particular, are traveling in different ways than their parents did.  Today's youth are leading the decline in vehicle miles traveled while increasing how much they bike, walk, and take transit.  A May 2014 WISPIRG Foundation survey of 530 Wisconsin college students (Driving Wisconsin's 'Brain Drain') found that 84% of respondents want the ability to get around without a car; many may leave Wisconsin without that option. Numerous recent surveys have found that millennials continue to gravitate toward communities that have appealing quality-of-life amenities, including a comprehensive transit infrastructure.
Meanwhile, transit and bike funding have plummeted in recent years, while funding for highway construction has continued to rise.
4.  Getting our priorities right – Transportation Budget Reform
Wisconsin is spending heavily on highway expansion projects – despite stagnating driving – even as it underfunds a long list of pressing repair and investment needs across Wisconsin and cuts spending on transit and transportation alternatives.
For example, Wisconsin is planning to spend $2.8 billion on four unnecessary highway expansion projects that could instead provide more than half a billion extra dollars in each of the next five state biennial budgets. This money could meet a series of unmet transportation needs, including key transit projects, local road repair, and bicycle and pedestrian projects.  We could implement all the recommendations of the 2013 bi-partisan Transportation Policy and Finance Commission for local road repair, transit, bicycle and pedestrian infrastructure, and the rehabilitation of state-owned roads, for the next 10 years, for just over $1 billion of those highway expansion funds.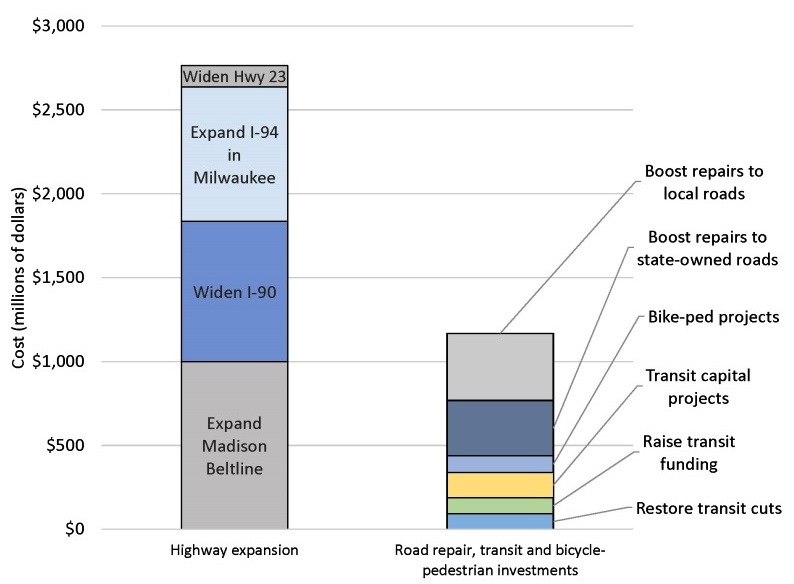 Even for highways, road maintenance is underfunded, and its funding has grown more slowly, compared to new highway construction.  In some years, such as 2006 and 2011, Wisconsin spent more on new construction than on highway repairs.
The decision to spend massive amounts of taxpayer resources on new and expanded highways appears especially out of step at a time when Wisconsinites are driving less than they did a decade ago – and when citizens and local leaders in communities across the state are clamoring for long-overdue investments in road repair, transit systems and infrastructure for bicycling and walking.
Wisconsin faces a choice: continue to shower money on unnecessary highway expansions, or invest in critical projects to repair our existing transportation infrastructure and provide more transport options to citizens around the state.
Some are advocating that we should increase transportation funding, but that's irresponsible when there is evidence of waste in the state transportation budget.  Before asking taxpayers to pay more, state leaders should start by getting our transportation priorities straight.