Celebrating 25 Years!
We're excited to share our 25th Anniversary celebration with you! Take a look at what your support over the past 25 years has meant to us and the state of Wisconsin.
View the timeline to see what we've accomplished in the last ¼ century

Meet our staff and learn more about our work
Watch: Deb Nemeth, Gregg May and Susan Gaeddert talking about our work:
---
What our partners and supporters have to say about us
Watch: Mark Roffers, AICP – Board Member; Megan Severson, State Director – Wisconsin Environment; and Caressa Givens Program Manager – Wisconsin Bike Fed, talk about 1000 Friends:
---
Watch: Rosalia Gittens, Community School Resource Coordinator at Leopold Elementary gives her testimonial:
---
Watch: Former Executive Director Steve Hiniker talks about 1000 Friends:
---
Watch: Dave Ciewlewicz, a Founder, the first Executive Director and a long-time Board Member of 1000 Friends gives his testimonial:
---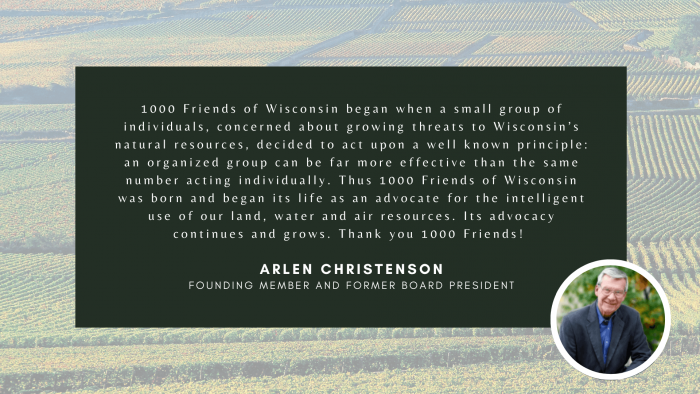 "1000 Friends of Wisconsin began when a small group of individuals, concerned about growing threats to Wisconsin's natural resources, decided to act upon a well known principle: an organized group can be far more effective than the same number acting individually.
Thus 1000 Friends of Wisconsin was born and began its life as an advocate for the intelligent use of our land, water and air resources. It's advocacy continues and grows."
---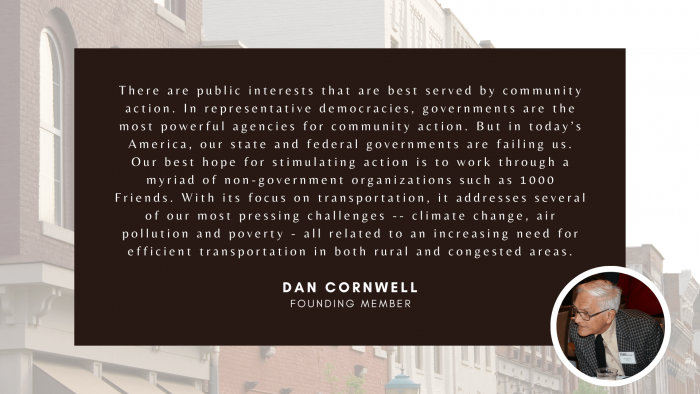 "There are public interests that are best served by community action. In representative democracies, governments are the most powerful agencies for community action. But in today's America, our state and federal governments are failing us.
Our best hope for stimulating action is to work through a myriad of non-government organizations such as 1000 Friends.
With its focus on transportation, it addresses several of our most pressing challenges – climate change, air pollution and poverty – all related to an increasing need for efficient transportation in both rural and congested areas."
Dan Cornwell, Member since 1996, Emeritus Professor – UW-Madison
---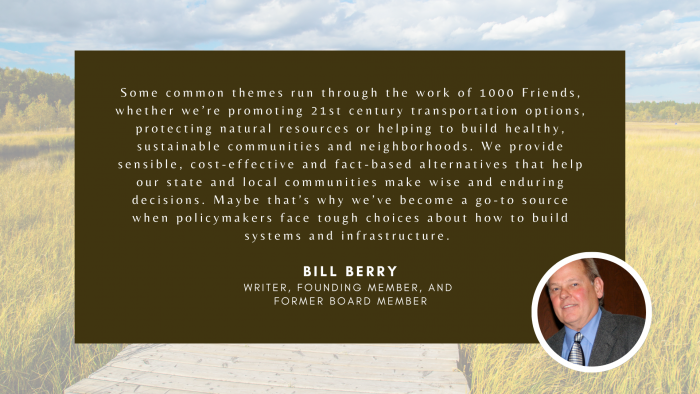 "Some common themes run through the work of 1000 Friends, whether we're promoting 21st century transportation options, protecting natural resources or helping to build healthy, sustainable communities and neighborhoods.
We provide sensible, cost-effective and fact-based alternatives that help our state and local communities make wise and enduring decisions.
Maybe that's why we've become a go-to source when policymakers face tough choices about how to build systems and infrastructure."
---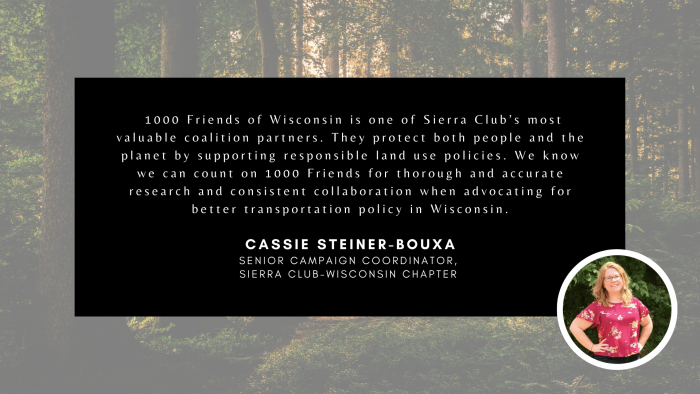 "1000 Friends of Wisconsin is one of Sierra Club's most valuable coalition partners. They protect both people and the planet by supporting responsible land use policies.
We know we can count on 1000 Friends for thorough and accurate research and consistent collaboration when advocating for better transportation policy in Wisconsin."
---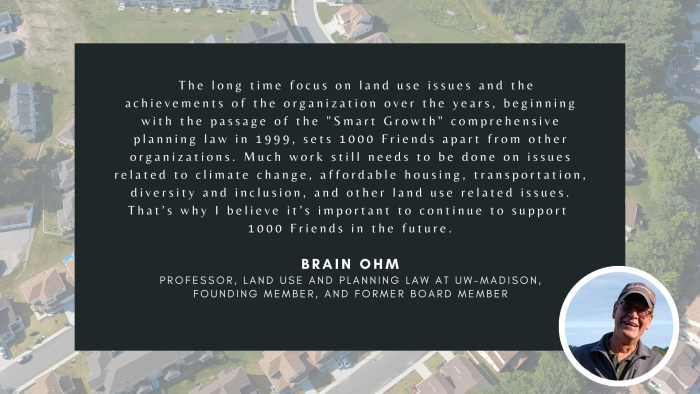 "The long time focus on land use issues and the achivements of the organization over the years, beginning with the passage of the "Smart Growth" comprehensive planning law in 1999, sets 1000 Friends apart from other organizations. Much work still needs to be done on issues related to climate change, affordable housing, transportation, diversity and inclusion, and other land use related issues. That's why I believe it's important to continue to support 1000 Friends in the future."
Brian Ohm, Founding Member, Professor of Land Use & Planning at UW-Madison