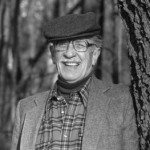 The Wisconsin Natural Resources Board memorialized the late conservation icon Bud Jordahl by naming a segment of the Lower Wisconsin River after him.  Bud was a founding board member of 1000 Friends of Wisconsin.
Bud was a tireless advocate for natural resources protection in Wisconsin and has been widely recognized for his numerous achievements including his work to protect the Apostle Islands as a National Lakeshore, his work as the chair of the Natural Resources Board and his efforts to see the Lower Wisconsin Riverway protected from inappropriate development.
Bud's work to protect the river dates to the 1960's and was finally realized when the state created the Lower Wisconsin State Riverway in 1989.  Bud made his farm outside of Richland Center, near the Riverview Bluff area a veritable nature reserve.