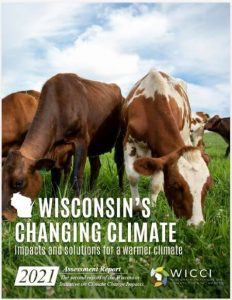 2021 Assessment Report: Wisconsin's Changing Climate
-by the Wisconsin Initiative on Climate Change Impacts
Impacts and Solutions for a Warmer Climate
Wisconsin's climate continues to change. In the 10 years since the 2011 WICCI Assessment Report, new data show continued warming, increases in rain and snow, and more frequent extreme rainfall events. The report explains the issues and impacts of our warming climate on Wisconsin residents and describes the scientific progress made toward solutions.
Read the full report and learn more.
Watch our webinar: Wisconsin's Changing Climate: Impacts & Adaptation Strategies – to learn more about the report.