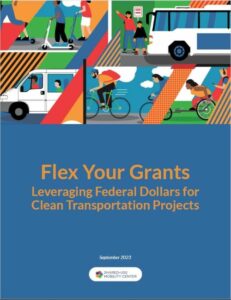 2021 and 2022 were pivotal years for US transportation, infrastructure, and climate policy with the passage of the Bipartisan Infrastructure Law (BIL, also known as the Infrastructure Investment and Jobs Act) and the Inflation Reduction Act (IRA). Both laws are widely regarded as transformational, as they provide historic levels of investment in areas like clean transportation and energy systems. At the same time, these laws greatly expand funding for projects focused on building roads and bridges and could instead reinforce and even worsen the auto-centric transportation systems that have contributed to making the transportation sector the largest source of
greenhouse gas emissions.
When seeking dollars for transportation projects, states and metropolitan planning organizations (MPOs) can leverage various new and existing competitive and formula grants for clean transportation projects.
For this paper, we explore how state, regional, and local governments can leverage new and
existing federal funding sources to advance clean transportation projects. Throughout
this paper, we explore specific grant programs administered by different federal agencies
that provide funding for clean transportation projects, as well as highlighting grant-winning
projects as examples.
This report was commissioned by 1000 Friends of Iowa, 1000 Friends of Wisconsin, Move Minnesota, Resilient Communities, and Transportation Riders United, and funded by the RE-AMP Network.