The answer, increasingly, is walkability.
Recent studies have championed the physical health benefits of designing for walkability (Centers for Disease Control), the improvements in community health and wellbeing from new residential construction in walkable areas (University of Melbourne), and the economic value of walkability in terms of dollars spent in the local economy (Victoria Transport Policy Institute).
On the heels of these and other reports that tout the benefits of walkable, bike-friendly communities comes the 2013 Community Preference Survey by the National Association of Realtors. This study asked a representative sample of the U.S. population about a multitude of issues, including preferred community attributes, type of residence desired, and commute to work. While the results paint a complex picture of Americans' hopes, desires, and worries about where they live, one thing is for certain—support for living in walkable communities is on the rise.
Some highlights from the report include:
50% of respondents would prefer to live in a more walkable, mixed-use community with transportation options, edging out the 45% preferring a conventional car-dependent suburb (with 5% responding "don't know").
The walkable option was preferred overwhelmingly by both recent movers (58% to 38%) and those likely to move in the near future (57% to 39%).
Younger Americans strongly prioritize having a wide variety of transportation options as a solution to transportation problems.
Commonly identified community elements respondents felt were missing include:

Safe routes for riding bikes to work and shopping
Public transportation within an easy walk
Housing for people with low incomes
Shops or restaurants within an easy walk of your home
Realtors have responded in a big way. The website "Walk Score," once a fascinating research tool and conversation starter for urban planners and neighborhood advocates, has become a major tool for real estate professionals, with higher Walk Scores communicating better walkability to potential buyers (see a Walk Score map of Madison below). Realtors have integrated Walk Score into their local listings and are learning how to act as "neighborhood guides" above and beyond their interests in a specific property.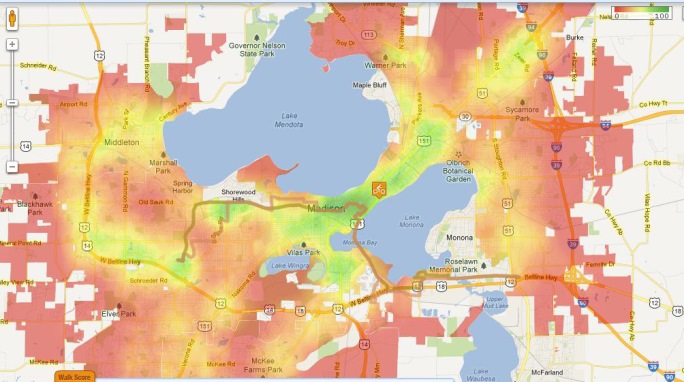 At 1000 Friends of Wisconsin, we are constantly seeking new ways to understand what makes a community livable, vibrant, and sustainable. We welcome efforts by real estate professionals to respond to the real and growing demand for walkable communities.
-Matt Covert, Green Downtown Program Manager
Learn about Matt's work on Walk Appeal