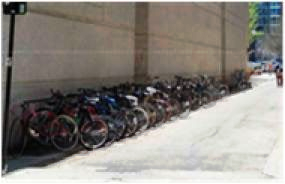 State Street Mall and Library Mall continue to be a major bicycle thoroughfare as well as a pedestrian mall. During a 2013 traffic count, the design team clocked 1000 bicyclists entering the project area in one day. Of those 1000, more than 900 disregarded the posted prohibition of riding on the mall. This number suggests that bicyclists are unlikely to stop using State Street and Library Mall anytime soon. One possible reason for this could be the sorry state of bike parking on or near the mall. Current bicycle parking on the 700 and 800 blocks of State Street and the Library Mall is woefully inadequate, difficult to use, and unsightly (see picture below). Additional bike rack space is needed, and the current proposal calls for significant rack structures at entry points ("gateways") to the mall. We recommend going beyond simply installing racks that fit city requirements by tastefully deploying creative designs and use of materials to help brand the space and integrate it with both downtown and campus.
New artistic racks should replace the current bike parking structures and should be placed in a manner that creates a "welcoming" "creative" and "playful" gateway to the space. The additional artistic rack should encourage bicyclists to park their bikes in safe, convenient and appropriate locations and the artistic racks should also celebrate Madison's commitment to bicycling and to providing safe public spaces for pedestrians and bicyclists.
Effective artistic bicycle parking structures must possess the following attributes:
• Multiple lock points to accommodate a wide variety of bicycles, riders, and lock setups
• Minimum separation of 2 feet between bike stalls to allow riders to easily pull bikes in and out of racks
• Capacity of 10 to 15 bikes per rack unit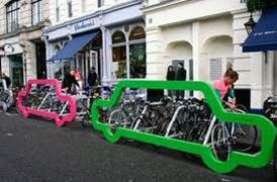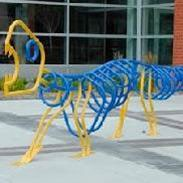 Designing the bike racks as more than mere functional structures adds to the attractiveness of the space and communicates Madison's commitment to bicycling as a convenient and popular mode of transit. It also offers an opportunity to "brand" the public space and to develop a unique identity which associates it with State Street and with the University community. This effort could take the form of on-street bike corrals that replace a car parking spot with a colorful frame which are consistent with the branding theme (above left) or development of unique, clever installations – potentially in partnership with student design teams – which reinforce the special sense of place (above right).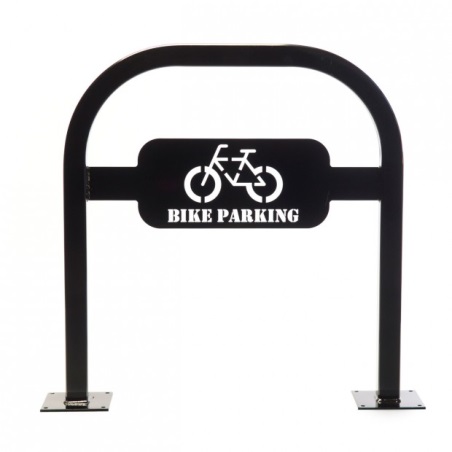 As a simple initial step, we recommend that the bike parking design incorporate available local technology and products, to add color and artistry, e.g., a branded bike rack system (right). These parking systems are available from a local manufacturer in multiple colors and custom designs with branding plates. Artistic bike racks help communicate themes about the special nature of this public space and also convey a message that bicycles and bicyclists are welcome and valued users of this public place, even if city ordinances still technically prohibit riding on the mall. Additionally, because these racks are commercially produced at a large-scale, and because only a few racks need the branding plate, this can help keep costs down.