-Originally posted at fdlreporter.com – Fond du Lac
-By Justin Kabbes
State lawmakers could kick the can down the road again for the Highway 23 project.
That is if the state reduces the amount of money Gov. Scott Walker is requesting to borrow for the transportation budget.
Lawmakers asked Transportation Secretary Mark Gottlieb at a March 4 Joint Committee on Finance what projects would be delayed if lawmakers reduced the amount of money the state borrows for transportation by $500 million. Walker's budget proposal requested borrowing $1.3 billion for road work. Gottlieb listed an array of major delays, including the Highway 23 Expansion Project.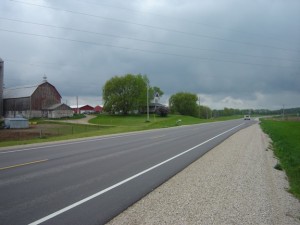 The estimated $146 million project, which would stretch from Highway 67 in Plymouth to Highway 151 in Fond du Lac, is seen by many as a vital safety measure and one that will allow for four lanes of traffic along the busy stretch of highway.
Fond du Lac Republican Sen. Richard Gudex's chief of staff, Tim Lakin, said he's unsure how likely it is that the project would be delayed.
"Obviously the transportation budget is kind of a mess right now. We're trying to figure out solutions to address it. Those discussions are pretty fluid right now," he said. "We've worked very very hard on that project and getting it going. To see it delayed even further would be very very disappointing."
Safety concerns
Local supporters of the expansion said driving on the highway is unsafe and delaying its expansion would only result in more accidents.
"I was driving on it (March 21) and almost went head-on with a vehicle that decided to pass," Fond du Lac County Highway Commissioner Tom Janke said. "You've got vehicles that sometimes decide to pass multiple vehicles at a time. That's creating safety issues among other things."
Lakin said the road's safety concerns were the main reason the project was initiated.
"We've seen many deaths over the years on the highway," Lakin said. "Let's face it. Highway 23 is like many highways across the state. We've been advocating for the safety upgrades and highway upgrades. It will continue to be an issue until it's fixed."
Plymouth Mayor Don Pohlman said safety concerns are only one reason to redevelop the road.
"It's all of the above. It's tourism, it's economy, it's opportunity to grow the community, it's moving goods and services in a safe manner," he said.
Borrowing money to pay the bills
Walker's fellow Republicans were critical of his plans to borrow billions. Joint Finance Committee members of both parties asked Gottlieb to justify the strategy and to develop a better long-term solution for building roads during the hearing. Gottlieb said the bonding plan is necessary because Walker doesn't want to raise the gas tax and vehicle registration fees.
Pohlman said he recently spoke with Gottlieb about the state budget and the need to continue the Highway 23 project. Although the political climate isn't very open to tax increases, Pohlman said, he suggested to the transportation secretary that a 5-cent gas sales tax increase would raise significant revenue and cause minimal pain at the pump.
"It's going to be hard to do anything because no one wants taxes increased," Pohlman said. "Well, sometimes you have to look at what the purpose is and in this case I think it has a very good payback. It's not going to get cheaper down the road. It just isn't."
Pohlman said the money the state is getting from the gas tax hasn't increased significantly in recent years. However, he said the number of roads in need of repair are increasing. The state gas tax is about 31 cents per gallon, with an additional 2 cents per gallon petroleum inspection fee. Lawmakers haven't raised the rate since 2006.
"We're trying to do more work on more miles with the same amount of money," Pohlman said. "Anybody that runs a business or a checkbook knows that the dollars don't reach as much."
Lakin said Gudex is skeptical of the plan to borrow money to pay for road repairs.
"It's not a long-term solution. It kicks the can down the road two years and then it's right back in the legislature's hands to fix the problem," Lakin said. "Our debt service continues to increase year after year after year. Because we're paying so much in debt service for the money we're borrowing less projects are getting done."
Lakin said borrowing money is only making things worse.
"This is in personal finances what we call the death spiral. You keep paying more in interest each time you borrow more money and you never get out of the hole," Lakin said. "(Sen. Gudex) wants to fix the problem instead of kicking the can down the road. That sometimes will include some tax increases and we're willing to have that discussion."
The project was delayed by litigation in 2011 when the group 1000 Friends of Wisconsin, which opposes major highway expansions in favor of investment in local roads, filed a lawsuit. Steve Hiniker, the group's executive director, said the state should look to develop certain stretches and intersections of the highway that are more dangerous than others instead of completely redesigning it.
"When you look at any road the more serious crashes occur when you introduce speed into the equation," Hiniker said. "Highway 23 absolutely needs spot improvements. But it doesn't need a ($146 million) expansion."
The Associated Press contributed to this report.