–This article was originally featured on streetsblog.net.
-by Angie Schmitt
State departments of transportation all over the country use specious traffic projections to justify hugely expensive road widening projects. That's how you end up with the graph on the right — showing how DOTs continued to forecast traffic growth year after year, even as driving stagnated.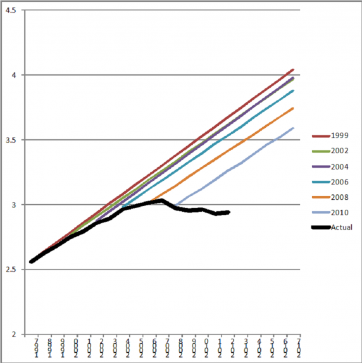 Wisconsin DOT is perhaps the most notorious manipulator of traffic forecasts. Fortunately, Wisconsin also has a strong network of organizations holding the DOT's feet to the fire and dragging it to court if need be.
Today, 1,000 Friends of Wisconsin Executive Director Steve Hiniker shares news of a major legal victory. A federal court sided with the organization in a suit against WisDOT that challenged the traffic data used to justify the $146 million widening of Highway 23:
According to the ruling, the Wisconsin DOT failed to justify the amount of traffic it projected as likely to use the road in the future. The Court ruled that the project is ineligible for federal funding until documented accurate traffic forecasts can be made that justify expanding the highway. The state can now either go back to the drawing board and do verifiable forecasting or scrap the expansion plans. The ruling does not stop the state from building the project using only state funds.
"We encourage the DOT to immediately make safety improvements along Highway 23 that could always have been done without expanding the highway to 4 lanes," added Hiniker.
This case could have dramatic ramifications for other highway building plans in the state. Critics of DOT building plans have questioned a number of projects based on faulty traffic projections – including the proposed almost billion dollar expansion of the I-94 corridor near Miller Park in Milwaukee.
"We call on the legislature to stop funding any road expansion project that has not already begun construction until updated, accurate and verifiable traffic forecasts can be made. The state cannot afford to spend billions of dollars on highway projects that are not justified by accurate data," concluded Hiniker.