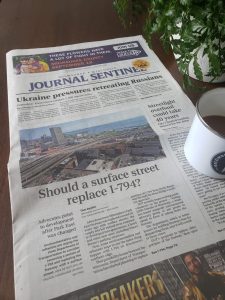 This week our Rethink 794 campaign received a ton of positive press including a front page article in the Milwaukee Journal Sentinel!
It was also featured in the Milwaukee Business Journal and Gregg, our Transportation Policy Director, spoke on WTMJ yesterday to promote the idea.
Our campaign was inspired by movements around the country to replace downtown highways with at-grade boulevards.
In Milwaukee, I-794 is an overbuilt, underutilized highway spur that is separating several neighborhoods and preventing access to Lake Michigan.
We could do much better with this 32.5 acres of prime real estate.
If we turn 794 into a boulevard we could reconnect two neighborhoods, make our streets safer, and strengthen Milwaukee's tax base.