World Day of Remembrance for Road Traffic Victims takes place on November 20, 2022. On Tuesday, November 15, the City of Madison held a press conference to mark the event and honor the 57 people who have died on Madison roads in the last five years. Speakers included Madison Mayor Satya Rhodes-Conway, Susan Gaeddert from 1000 Friends of Wisconsin, and Harald Kliems from Madison Bikes.
Watch the full press conference here.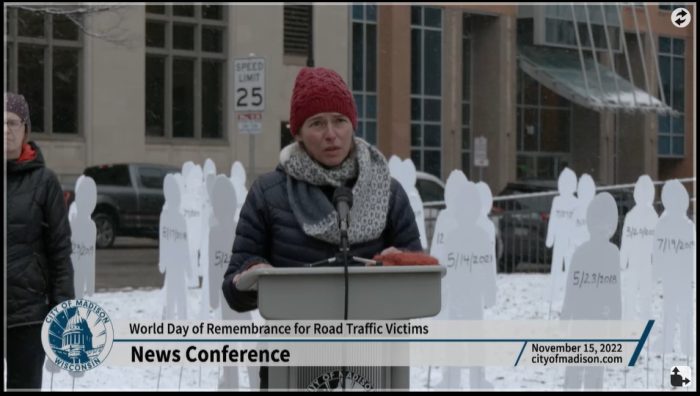 Read the full text of Susan's speech:
My name is Susan Gaeddert and I am here on behalf of 1000 Friends of Wisconsin, an organization dedicated to land use planning and transportation policies that promote healthy communities. We want to thank the City of Madison for inviting us to be here.
I am here with all of you to mark World Day of Remembrance for Road Traffic Victims. We are experiencing a national crisis of pedestrian deaths and debilitating injuries from traffic crashes. Each tragedy of traffic violence has a profound and lasting impact on the whole community. I once worked with a man who had permanent injuries requiring the use of a wheelchair, complex PTSD, and alcohol abuse disorder as the result of a serious traffic crash. He struggled to maintain healthy relationships and secure housing. I often wonder how his life and the lives of those around him would be different now if that crash could have been avoided.
The compounding trauma and grief for thousands of people living with permanent physical injuries and loved ones left behind is difficult to fathom. And it's only getting worse. The number of people killed or seriously injured in traffic crashes has been on the rise for several years, especially since the Covid pandemic began in 2020.
We need to face some harsh truths. Those most affected by traffic violence are people in low-income communities, people of color, people with disabilities, children, and senior citizens. This is both a reflection and exacerbation of the disparities and inequities we see in so many other parts of our society: in housing, education, economic opportunities, and health outcomes. Our streets and roads weren't designed for people, they were designed for vehicles, and the most vulnerable among us are paying the price. Speed and safety are not compatible on our city streets. We should not accept traffic deaths and serious injuries as an inevitable part of American life.
We can do better, and we know how to do better. In Madison we are doing better. We know what dangerous roads look like, and we know how to build safe streets. There are elements of street design and transportation policy that are proven to be effective in reducing the harm of traffic violence. We know what works because we have seen it implemented elsewhere, including cities in the U.S, and those places have seen a sharp decline in traffic deaths.
Vision Zero is a public commitment to making systemic changes that we desperately need to address this crisis. It is time to invest in infrastructure and policy changes that will make our streets safer for everyone, especially those outside of vehicles. When you think about the lives saved and the grief spared, Vision Zero is about so much more than numbers. It is about compassion and community care, and we are in full support of the City of Madison's plan to move Vision Zero forward. Safe streets save lives. Thank you.