Transportation
Connecting land-use and transportation is key to building vibrant and sustainable communities.
1000 Friends advocates for transportation options that are clean, equitable and cost effective. We believe that a disproportionate focus on automobiles has encouraged sprawl and unsustainable land use patterns. Transportation is also the second largest source of carbon emissions in the United States. We work on transportation policy at the state and local level to encourage investment in public transportation, bike and pedestrian infrastructure, while fighting against unneeded highway expansion.
We focus on:
Balanced Transportation – The current majority of our transportation spending is on roads. Healthy communities are built for people, not just cars. Our vision is to increase transportation funding at the state level for transit, walking and biking infrastructure, while also maintaining our local road and highway network.
Fighting Wasteful Spending – We are opposed to increased spending on new highway miles at a time when people are driving less and need more transportation options. We are currently focusing on two hugely wasteful projects – the proposed expansion of I-94 in Milwaukee, and increasing capacity on State Highway 23 in Sheboygan and Fond-du-Lac counties. Stopping these expansions would free up over $1 billion that can be used to fix our crumbling local roads, provide quality transit service and create great biking and walking infrastructure.
Transit – We believe that great communities need reliable high quality transit options. Good transit connects people to jobs, saves money and increases air quality. 1000 Friends provides research and education on the benefits of public transportation in an effort to build support for increased investment in these systems.
Biking & Walking – We advocate for land use and transportation policies that encourage walking and biking in Wisconsin. Communities that have good pedestrian and non-motorized transportation infrastructure are healthier, more equitable and more economically viable.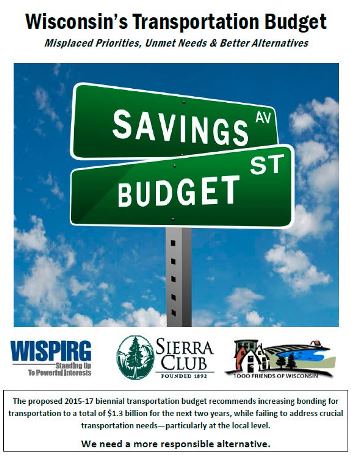 Local Road Conditions – Interactive Map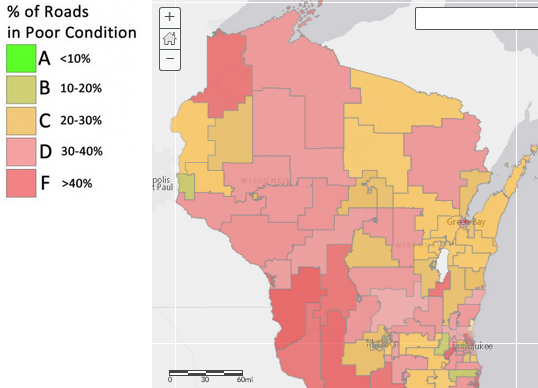 Reports and Research:
Get involved in advocating for more clean transportation options in Wisconsin: